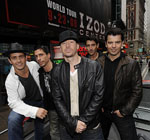 YEAR FORMED/
HOMETOWN:
1984; Boston, Massachusetts.
MEMBERS:
Jordan Knight, Jonathan Knight, Joey McIntyre, Donnie Wahlberg and Danny Wood.
NOTES:
Jordan and Jonathan are brothers.

Donnie is the brother of "Marky Mark" Wahlberg.

Joey McIntyre & Jordan Knight had solo careers.

New Kids On The Block broke up in 1994; reunited in 2008.
WEB SITE: