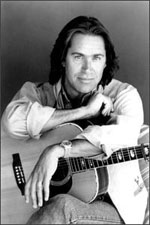 FULL NAME/
BIRTHDATE/
HOMETOWN:
Born Daniel Grayling Fogelberg on 8/13/51 in Peoria, Illinois.
NOTES:
1970s & '80s soft-rock singer/songwriter.

Worked as a folk singer in Los Angeles, and did session work in Nashville, Tennessee.

Worked with Van Morrison in the early 1970s.

Had backing band called Fools Gold.

Died of cancer on 12/16/2007.
WEB SITE: